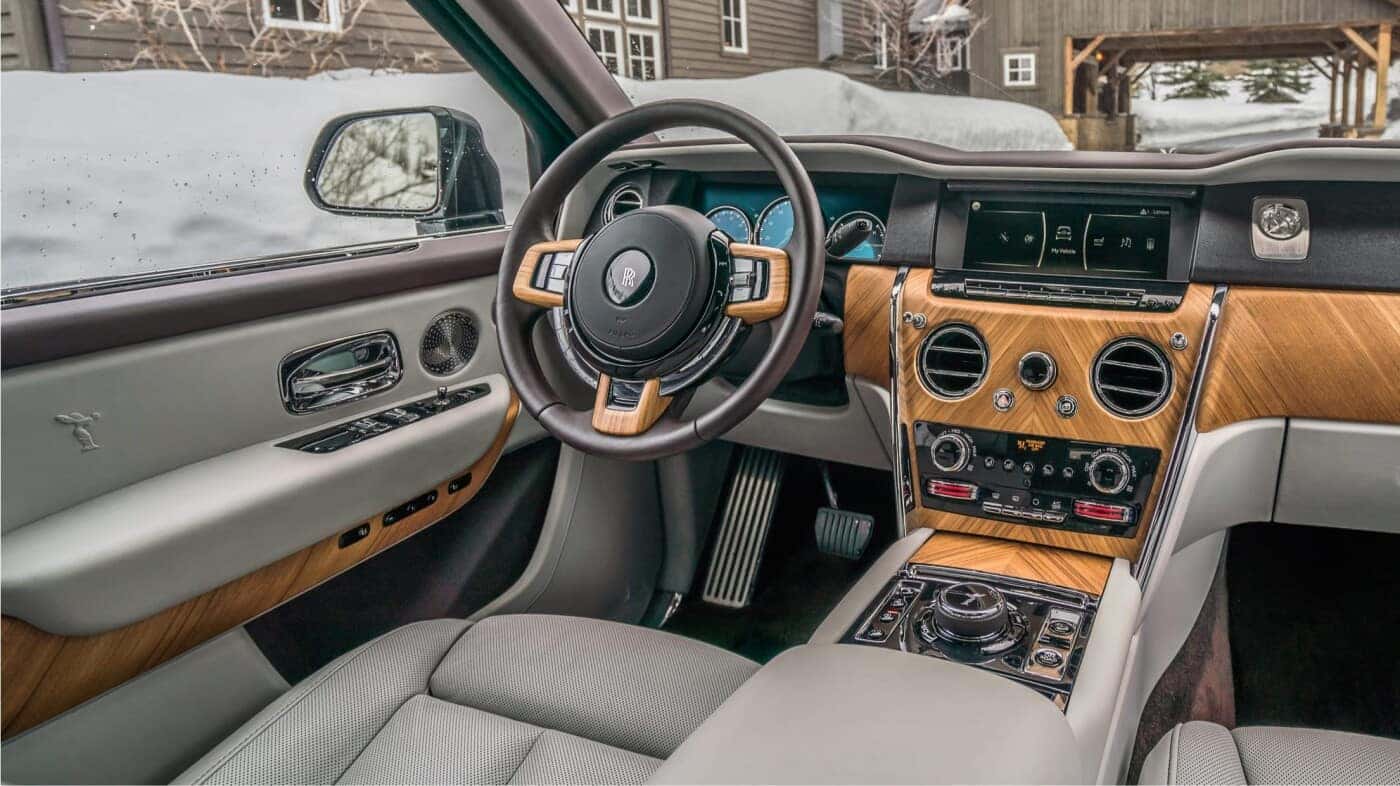 If you're searching for luxury cars with the best technology near San Antonio, look no further than the new Rolls-Royce lineup. Offering hand-crafted precision, unmistakable style, and head-turning power, Rolls-Royce delivers highlights other carmakers can only dream about. What's more, the Rolls-Royce technology is head and shoulders above the competition, surrounding drivers and passengers alike with every imaginable amenity.
From interior comforts to service and safety features, the Rolls-Royce technology will deliver a new level of serenity to your Dallas travels. Learn more about our luxury cars with the best technology below.
Interior Technology
Across the Rolls-Royce lineup, you'll find innovative specs that pay homage to the proud legacy of this automaker. Delivering bold body styles and unapologetic muscle, you're guaranteed to turn heads when you take to the Houston streets in a Rolls-Royce.
While your vehicle holds the gaze of every passerby, you'll enjoy interior amenities beyond comparison. The technology embedded throughout the cabins of Rolls-Royce vehicles is second to none, ensuring that every trip is a dream ride. Rolls-Royce interior technologies found across the lineup include:
WiFi hotspot
Smartphone integration with signal boosting and charging
Hands-free Bluetooth
Spirit of Ecstasy Rotary Controller
Rolls-Royce Starlight Headliner
Speed-Sensitive Volume Controls
Proximity Keyless Entry
Safety and Service Technology
While convenience and comfort are paramount, safety is a concern for every driver. Luckily, the integrated Rolls-Royce technology offers an emphasis on safety. With ample driver-assistance features, driving your Rolls-Royce will bring you endless peace of mind.
The Rolls-Royce CarData feature incorporated into Rolls-Royce Teleservices actively sends telemetric data generated by your vehicle to Rolls-Royce. Through this, you can view service information and vehicle metrics. Other stunning safety features found among the latest generation of Rolls-Royce models include:
Blind Spot and Lane Departure Warnings Accident Avoidance System
Satellite-aided transmission
Night Vision infrared camera
Rolls-Royce Assist
Heads-up Display (HUD)
Brake Assist
Lane Keep Assist
Find Your Tech-Filled Ride at Rolls-Royce Motor Cars Austin
Now that you're well-acquainted with the Rolls-Royce technology features, the time is right to visit us in Austin for a test drive. When you shop for luxury cars with the best technology at Rolls-Royce Motor Cars Austin, our financiers will guide you to the perfect model. Team up with us today to enjoy a stress-free shopping experience. Contact us if you have any lingering questions about Rolls-Royce technology. Learn more about customizing your Rolls-Royce with our team today!