What is Rolls-Royce Black Badge?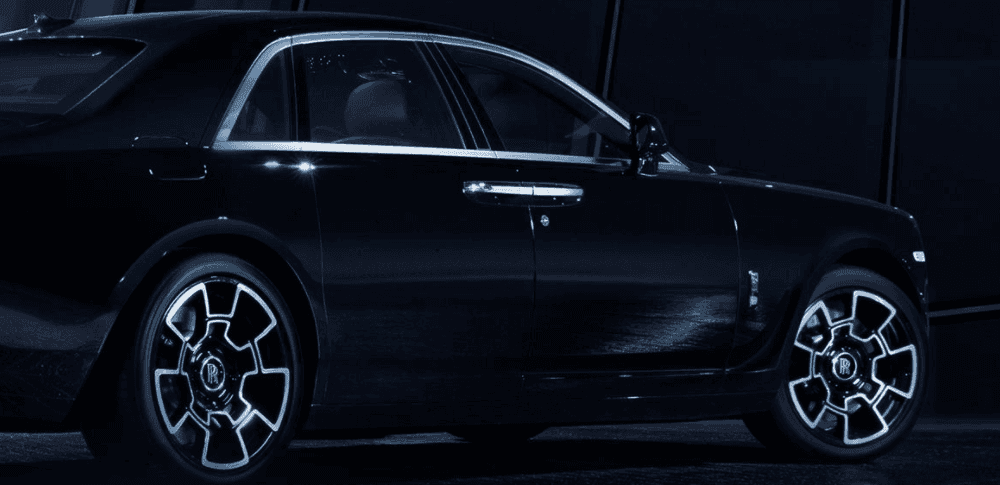 ---
---
The Rolls-Royce Black Badge vehicles stand at the pinnacle of the Rolls-Royce lineup. The four current Black Badge models provide the highest available quotients of horsepower and torque, along with superior handling and unmistakable styling. These models are marked by the instantly-recognizable lemniscate, an infinity symbol that represents unconquerable drive and desire. For the San Antonio region's discerning drivers, it shouldn't be hard to see why.
Introducing the Rolls-Royce Black Badge Lineup
Today, there are four models in the Rolls-Royce Black Badge lineup. Whether you opt for the Rolls-Royce Ghost Black Badge, the the Rolls-Royce Dawn Black Badge, or the Rolls-Royce Wraith Black Badge, you can expect to encounter a technical fiber fascia, silver-on-black Rolls-Royce badging, black-finished exterior details, and a gloss-black Spirit of Ecstasy hood ornament. Of course, any driver who's been paying attention will also look for the Black Badge Cullinan–one of the most potent luxury SUVs ever produced. Although all Rolls-Royce Black Badge models are available with finishing touches and exterior panels colored with the "blackest of blacks," you shouldn't let that stop you from choosing a unique palette.
The Black Badge Cullinan: For Those Who Stand Out
Rolls-Royce introduced their first-ever SUV in 2018, and named it after the largest diamond that has ever been found on earth. Lay eyes on its jewel-like faceted exterior, and the allusion is easy to grasp! Here's what Houston and El Paso drivers can expect from the Black Badge Cullinan:
A more powerful V12 engine with 600 hp and 664 lb-ft of torque
Three-dimensional carbon fiber interior paneling
A fiber optic-powered starlit headliner
Crimson brake calipers–a first for Rolls-Royce
An available Viewing Suite configuration for rear-seated passengers
Rolls-Royce Black Badge Prices
The Rolls-Royce Black Badge lineup has no set starting price, but most of these models will run between $400,000 and $500,000. Of course, with near-limitless opportunities for customization, and a wide variety of available features, it stands to reason that prices will vary by significant margins. Configure your ideal Rolls-Royce Black Badge model today, and let our financing department work out the details. It might take up to six months to build your dream car, but there's no way around the fact that these vehicles are worth the wait.
Configure Your Rolls-Royce Black Badge Model with Our Team
Are you ready to enjoy a genuinely revolutionary touring experience? Don't wait to let us know. We'll take you through the steps involved in configuring or choosing a new Rolls-Royce of your very own. Looking for more Rolls-Royce information? Discover the story behind the Rolls-Royce logo today! Looking for more ownership information? Discover the Rolls-Royce Whispers program today.
Learn More with Rolls-Royce Motor Cars Austin
Standing in as one of the most iconic models across the luxury Rolls-Royce lineup, the Rolls-Royce Ghost is the hallmark of excellence and style. Originally introduced in 2009, the first series Ghost was designed to compete with other luxury models that came in at a lower price point than the Rolls-Royce Phantom. The more affordable…

The iconic eighth-generation Phantom receives a bold new expression for 2023 with the all-new Rolls-Royce Phantom Series 2. Explore this deluxe model featuring all-new additions and exclusive amenities. Carrying the same tradition and reputation for luxury and excellence, the Phantom Series 2 emboldens riders like never before. The Phantom Series 2 boasts an updated exterior…

Rolls-Royce Black Badge models are designed for those who blaze a trail everywhere they go. Exploring the 2021 Rolls-Royce Black Badge lineup shows that you have a penchant for luxury, adventure, and blistering performance. Beyond that, joining the ranks as a Rolls-Royce Black Badge driver will undoubtedly allow you to craft a model that is…