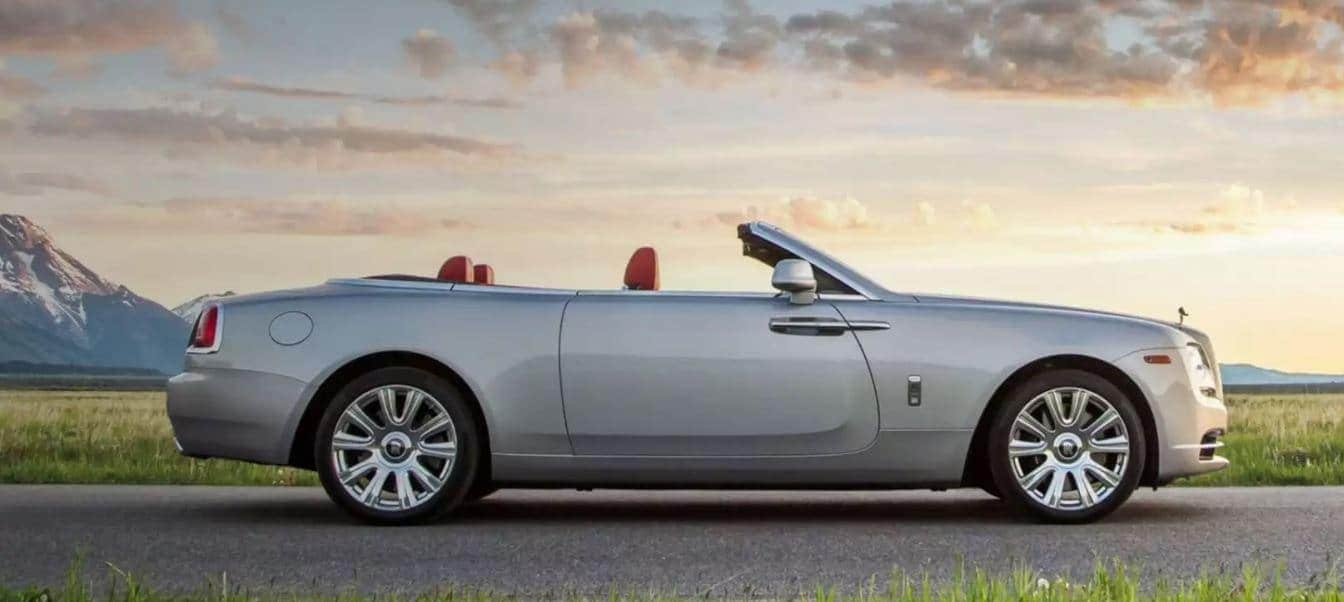 ROLLS-ROYCE BRAND & LIFESTYLE
Want to learn more about the Rolls-Royce brand? Rolls-Royce Motor Cars Austin can help you out. Learn more about Rolls-Royce's ownership benefits, history, technology, amenities, and more below! Whether you're curious about Rolls-Royce's premium performance offerings or seamless connectivity, we can help you out. We're proud to be your Austin Rolls-Royce dealer, and we want to help you stay up to date with features and news.
So what are you waiting for? Find the perfect Rolls-Royce model for your lifestyle. Choose from the iconic Rolls-Royce Phantom and game-changing Rolls-Royce Cullinan luxury SUV to the revered Rolls-Royce Ghost, the unmistakable Rolls-Royce Wraith coupe, and the exciting Rolls-Royce Dawn convertible. Each boasting unparalleled driving dynamics, cutting-edge technology, and first-class amenities. After you've done your research, stop by Rolls-Royce Motor Cars Austin to set up a test drive. Feel free to browse our growing inventory of new, pre-owned, and certified pre-owned cars today!
ROLLS-ROYCE OWNERSHIP BENEFITS
Rolls-Royce owners are considered family, connected by an exhilarating driving experience unlike any other. As a family, you are granted access to a world of endless inspiration and excellence. This includes personalized care from our dedicated teams, exclusive experiences offline and on, and, of course, the finest motor car services in the world. Plus, every new Rolls-Royce is protected by a four-year, unlimited mileage. The warranty encompasses a wide range of serviceable vehicle components to minimize any inconvenience to you during the warranty period. Additional Rolls-Royce ownership benefits include:
Collectors and new owners enjoy a lifelong partnership with Goodwood, the world's greatest craftspeople and technicians.
Exclusive "Whispers" membership, Rolls-Royce owners gain access to private events and experiences.
Rolls-Royce motor car services can also be managed through the app, which is supported by a 24/7 concierge.
Bespoke empowers you to continuously personalize your Rolls-Royce so that it forever remains a reflection of your character.
Rolls-Royce Assist offers a geo-targeted system that automatically connects your motor car with emergency services nearby in light of unforeseen events.
ROLLS-ROYCE HISTORY
Rolls-Royce has become one of the most famous names in luxury car engineering throughout the world, find out more about their history. From the inception of the company and game-changing innovations to key moments and more!
1884 - Henry Royce started an electrical and mechanical business.
1904 - Henry Royce made his first two-cylinder Royce 10 car in his Manchester factory.

Henry Royce was introduced to Charles Rolls at the Midland Hotel, Manchester.
Charles Rolls agreed to take all the cars Royce could make.
All would be badged as Rolls-Royces and be sold exclusively by Rolls.

1906 - Rolls-Royce Limited was formed.

Royce began developing an improved six-cylinder model.
New Silver Ghost model launched, hailed as "the best car in the world".

1908 - Production began at their new Derby, England factory.
1914 - Rolls-Royce designed airplane engines for allies in WW1.
1920s - Rolls-Royce designed seaplanes and engines, winning acclaim.
1933 - Rolls-Royce broke the airspeed record with its 400 mph showing.
1936 - Rolls-Royce introduced the Phantom III, the last large pre-war model.
1940 - Rolls-Royce engines were used for Hurricane and Spitfire fighter planes, making them a contender in the aero propulsion sector.
1951 - Rolls-Royce began to produce diesel engines.
1953 - Rolls-Royce began developing commercial airplanes.
1980s - Rolls-Royce employed 80,000 people and was Britain's 14th largest company.
1987 - The UK government offered for sale all Rolls-Royce plc shares to success.
1990 - Rolls-Royce and BMW merged.
2004 - Celebrated 100 years!
2009 - Rolls-Royce Ghost was unveiled at the 2009 Frankfurt Motor Show.
2014 - Rolls-Royce Wraith debuted as a two-door reimagining of the iconic Ghost.
2016 - Black Badge launched, the first time that Bespoke personalization extended from the design studio into the marque's engineering center.
2019 - The first-ever Rolls-Royce SUV was released on the market, the new Cullinan.
ROLLS-ROYCE DESIGN
Rolls-Royce offers a wide range of impressive fully-customizable luxury coupes, sedans, and SUVs. Each boasts Rolls-Royce's muscular frame equipped with its unforgettable grille, bold LED lighting, and of course the iconic Spirit of Ecstasy crown. Inside, you'll be greeted by a slew of refined materials and cutting-edge technology. Because a Rolls-Royce is more than a motor car. It is a work of art, hand-made to order exclusively for you. Additional premium design highlights waiting for you to enjoy inside a new Rolls-Royce includes:
Available Coachbuild, an extraordinary, invitation-only design collaboration between select patrons and artisans, resulting in a truly singular creation.
Enjoy the world's finest A-grade leather, lambswool floormats, and crafted wood veneers.
Black Badge offers custom colorways and other avenues of personalization.
Available Starlight Headliner, 1,344 individually placed fiber-optic stars shine through tiny perforations.
Adaptive Headlights adjust to the ever-changing road conditions keeping both you and other road users as safe as possible.
Bold and aggressive wheel options, numerous material options, and seemingly unlimited paint color options.
ROLLS-ROYCE TECHNOLOGY
At Goodwood, the Home of Rolls-Royce, cutting-edge technology and traditional craft skills come together to create the best motor cars in the world. Rolls-Royce's technologically advanced features ensure that your driving experience is like no other. Enjoy next-level technology that includes everything from satellite communication technology and an available Night Vision infrared camera to an expertly tuned Bespoke Audio System and vibrant display throughout the cabin. Additional advanced technology offered in new Rolls-Royce models include:
Wireless car hotspot, browse the internet and read your emails easily and reliably.
Rear entertainment system headphones, deliver superior sound quality and comfort due to the lightweight, high-quality ear pads.
Mobile phone technologies, enjoy a hands-free Bluetooth interface that allows you to use the voice and data functions of your mobile phone safely.
Rolls-Royce Teleservices, an advanced system that allows your car to transmit important service data to your authorized dealer with exceptional accuracy.
Rolls-Royce Assist, an unparalleled system that connects your motor car with an emergency services call center.
ROLLS-ROYCE PERFORMANCE
Unlock and unleash an unparalleled driving experience inside a new Rolls-Royce today. From advanced all-wheel drive settings and premium performance modes to available suspension adjustment and responsive handles, every new Rolls-Royce model is built not to just perform in any situation but exceed all your expectations. Whether you're the driver or passenger, you're sure to enjoy your ride inside each and every new Rolls-Royce model. Discover some of the latest updates and advances that put Rolls-Royce above the competition, including:
Enjoy the signature Rolls-Royce magic carpet ride for unparalleled smoothness in any condition.
Ghost features a new 6.75-liter twin-turbocharged V12 engine and standard all-wheel drive.
Available Black Badge, experience the fine-tuned responsiveness of dynamic handling.
Self-Righting Wheel Centres ensure the Rolls-Royce badges on your wheels are always in their proper positions.
Cullinan comes equipped with a formidable V12 engine and offers a wading depth of 50cm.
Cullinan's Off-Road Button offers all-wheel drive that actively engages, providing uninterrupted torque to all four wheels.